Global and Regional Network Maps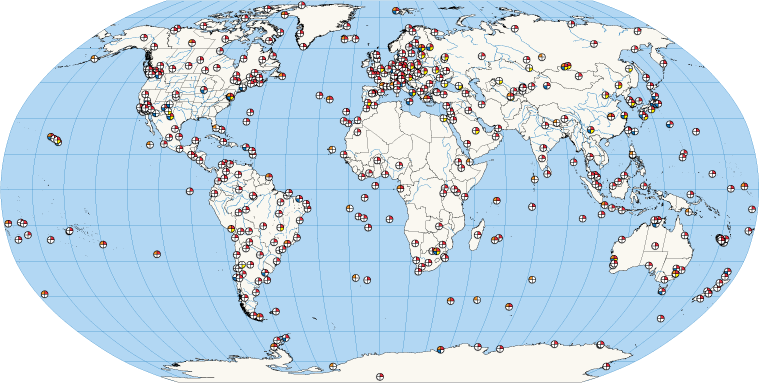 The CDDIS is currently experiencing problems with receiving data and products
12 October 2018
The CDDIS is currently experiencing problems receiving data and derived product files from those groups that routinely submit files to our upload servers. Therefore, some recent files are missing from the archive. We are actively working on the problem and hope to have the issues with file uploads solved soon.
We apologize for the problems this is causing our user community.
---
NASA Earth Science Data and Services Survey for 2018
01 October 2018
Recently, some of you may have received an email from the CFI Group on behalf of NASA. This message asked you to complete a survey for users of NASA Earth science data and services, which includes the Crustal Dynamics Data Information System (CDDIS). The CDDIS is one of twelve NASA Earth Observing System Data and Information System (EOSDIS) science data centers evaluated by this survey. The purpose of this survey is to help NASA and the DAACs assess customer satisfaction and improve future services. Suggestions from past surveys have been implemented to improve the tools and services offered by the CDDIS.
Please participate! Your feedback affects our future performance and helps to identify science needs. You will be able to take the survey for each DAAC you use. This is your opportunity to influence the priorities of the DAACs, including CDDIS.
If you did not receive a survey and wish to complete one or know of someone who uses CDDIS and/or EOSDIS data and services who did not receive a survey, please contact
The American Customer Satisfaction Index (ACSI) is the only national cross-industry measure of customer satisfaction in the United States. NASA commissioned the CFI Group, an independent research and consulting organization, to conduct a brief survey to rate the products and services NASA currently provides from NASA's EOSDIS data centers. Please consider responding to this survey; your input will help us to better serve our user community.
Presentations of these results given to NASA Earth science are available at:
https://earthdata.nasa.gov/about/system-performance/american-customer-satisfaction-index-reports
Thank you in advance to all of you who are willing to spend a few minutes to complete the survey.
---
22 February 2018
EOSDIS/Earthdata recently profiled a user of CDDIS data. Dr. Kristine M. Larson explores how a technology such as GPS can be used for applications beyond its original intent.
---
14 February 2018
EOSDIS was awarded the 2015 Pecora award. This prestigious award is given to groups that make outstanding contributions toward understanding the Earth by means of remote sensing. The citation highlights the EOSDIS accomplishments in providing an open archive system for a global user community. CDDIS is one of twelve DAACs supporting EOSDIS efforts through the Earth Science Data and Information System (ESDIS) project. Carey Noll, CDDIS Manager, accepted their award certificate from Andy Mitchell, ESDIS Project Manager, and Jeanne Behnke, Deputy Project Manager/Operations, at the 2018 DAAC Managers Meeting.
---
02 February 2018
The Space Environment Research Centre (SERC) and the International Laser Ranging Service (ILRS) are pleased to announce that the 21st International Workshop on Laser Ranging will be held in Canberra, Australia during the week of November 04-09, 2018 at the John Curtin School of Medical Research (Australian National University) and Mount Stromlo. The first circular has been released.
---
CDDIS has another year of record growth in 2017
18 January 2018
The Crustal Dynamics Data Information System (CDDIS) had another year of record growth with 1.7B file downloads (206TB) of data transferred to over 260K unique users in 2017. EOSDIS (Earth Observing System Data and Information System) reports that CDDIS led the twelve Distributed Active Archive (DAACs) in the number of files downloaded last year. Furthermore, CDDIS GNSS (Global Navigation Satellite System) data/products accounted for three of the top data sets distributed by EOSDIS.

In December, 2016, the CDDIS underwent an extensive system upgrade and developed a more streamlined process for archive operations.

Read more...
---