Global and Regional Network Maps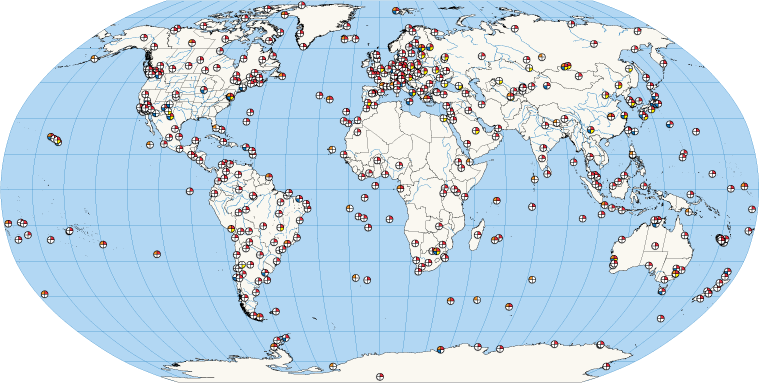 2021 ILRS Technical/Specialty Workshop
02 April 2020
The ILRS Governing Board is pleased to announce that the 2021 ILRS Technical/Specialty Workshop will be held in the October 2021 timeframe in Arequipa, Peru. The workshop will be hosted by the Astronomical and Aerospace Institute at the University of San Agustin.

At this time, the ILRS continues planning for the 22nd International Workshop on Laser Ranging in November 2020 with the local hosts in Kunming, China.


---
Invitation to the official launch of the new Earthdata User Forum
18 February 2020
You are invited to the official launch of the new Earthdata User Forum on Tuesday, February 25, 2020 at 11AM for a demonstration. The Webex will include an overview of the site, as well as a demonstration of data users' and NASA Distributed Active Archive Centers subject matter experts' interaction about general questions, research needs and data applications.

The Atmospheric Science Data Center (ASDC), in cooperation with ESDIS, has created a new ESDIS Cross-DAAC Forum for Earth Science knowledge discovery and distribution. Currently, ASDC, Crustal Dynamics Data Information System (CDDIS), Goddard Earth Science Data and Information Services Center (GES DISC), Global Hydrology Resource Center (GHRC), and Land Processes DAAC (LP DAAC) are participants. The Earthdata User Forum offers Earth Science explorers the opportunity to search answers to Earth Science questions across NASA DAACs and Missions.


---
First announcement of the 22nd International Workshop on Laser Ranging
08 January 2020
The 22nd International Workshop on Laser Ranging will be held in Kunming, China November 02 - 06, 2020. There will be five days of interesting presentations, a lot of time for formal and informal discussions, meeting project partners and paving the road for the future development of satellite laser ranging.

During the workshop there will also be a chance to visit the laser ranging station in Kunming. Theme and session topics for the workshop are currently under discussion. The organizers are open for ideas and suggestions, so please contact the local organizing committee at ilrs.workshop@ynao.ac.cn if you would like to see specific topics included in the workshop.

Additional announcements will be made when registration and abstract submission are opened.


---
Journal of Geodesy "Special Issue: Satellite Laser Ranging" now published
25 November 2019
The Journal of Geodesy has recently published the "Special Issue: Satellite Laser Ranging" (Volume 93, Issue 11, November 2019, editors Erricos Pavlis, Vincenza Luceri, Toshimichi Otsubo, Ulrich Schreiber). This issue consists of twenty papers detailing recent developments in SLR.

View the list of papers and authors
---
SLR Pioneer Certificates presented by Toshi Otsubo at the 2019 ILRS Technical Workshop
01 November 2019
During the 2019 ILRS Technical Workshop, Toshi Otsubo, chair of the ILRS Governing Board, presented the "SLR Pioneer Certificate" to the following recipients:
Victor Shargorodskiy (Research-and-Production Corporation «Precision Systems and Instruments«/ Moscow, Russia)
"In recognition of his role in the building and deploying of the ROSCOSMOS SLR network"
John McK. Luck (Geoscience Australia, retired/Canberra, Australia)
"In recognition of his work in establishing SLR activities in Australia and Western Pacific Laser Tracking Network"
Carey Noll (NASA GSFC/Greenbelt MD, USA)
"In recognition of her dedication, vision and creativity in supporting all aspects of the ILRS"
At the conclusion of the workshop, a "Recognition of Appreciation" certificate was presented to:
Daniel Hampf (DLR, Stuttgart, Germany)
"In recognition of the outstanding support provided in organizing and hosting the 2019 ILRS Technical Workshop, Stuttgart, Germany"
Congratulations to the recipients!
---
Notice of Pending Shutdown of IERS Rapid Service/Prediction Center web and FTP sites
22 October 2019
The U.S. Naval Observatory's Rapid/Service Prediction web/FTP sites (maia.usno.navy.mil and toshi.nofs.navy.mil) must undergo modernization and will be offline starting sometime Thursday, 24 October 2019. The expected completion of work and return of service is estimated as 30 April 2020.
The data products that the IERS Rapid Service/Prediction Center sends to the CDDIS will continue to be sent and they will be available on the CDDIS during the shutdown at:

ftp://cddis.nasa.gov/products/iers/
https://cddis.nasa.gov/archive/products/iers/
---