Global and Regional Network Maps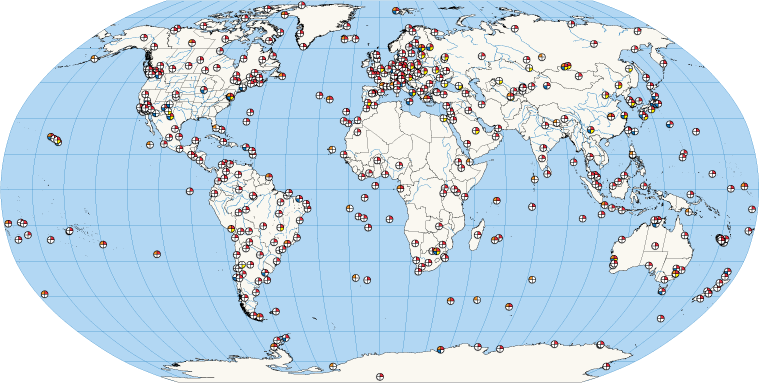 Dr. Thomas A. Herring, CDDIS data user profile
07 January 2021
One of the great achievements of the space age is the Global Navigation Satellite System (GNSS), which enables the precise location in time and space of any point on Earth. In a new NASA Earth Observing System Data and Information System (EOSDIS) Data User Profile, read how Dr. Thomas A. Herring uses GNSS data from NASA's Crustal Dynamics Data Information System (CDDIS) and other sources to measure surface deformation with ever-increasing precision.

Read about Dr. Herring's research on the Earthdata website...


---
RINEX V2 data files transitioning to gzip format
02 December 2020
On 1 December 2020, CDDIS began the automatic conversion of RINEX V2 data files from compress format to gzip format per the direction of the International GNSS Service (IGS). Please see IGS Mail issues 7994, 7981, 7970 along with the IGS knowledge base article:

https://kb.igs.org/hc/article_attachments/360063352932/Addendum_rinex211.pdf


---
15 November 2020
Precise Orbit Determination (POD) is a geodetic technique that enables knowing the exact position of a satellite above a stable reference point on Earth. Determining the exact position of the satellite when an observation is acquired is crucial in measuring sea level height. As noted by Dr. Frank Lemoine, a geodesist with NASA's Space Geodesy Project and a member of NASA's Ocean Surface Topography science team, "If you don't do POD right, you're not going to get any sea level results."

Read the full article on nasa.gov...


---
October 2020
Registration for the virtual tours is now open. Attendance for each session will be limited to 250 connections and will be available on a first come, first served basis. We encourage group attendance where possible; only one person is required to register for the group. Interested parties can register at:

https://cddis.nasa.gov/ILRS_Virtual_World_Tour_2020/Registration/

Attendees are required to register for each session they plan to attend. There is no fee for registering and attending any of the tours. Registration will be closed on October 26, 2020.


---
25 September 2020
In place of the planned Workshop this November, the ILRS wanted to take the opportunity to try something different and look in detail at a selection of stations in the global network. The online 'Virtual World Tour', to be held November 2-6, 2020, will visit 5 stations in 5 days, stopping at:
Graz, Austria
Greenbelt MD, USA
Simosato, Japan
Yarragadee, Australia
Zimmerwald, Switzerland
Each two-hour session will consist of an introductory presentation about the station followed by a tour of the site highlighting instrumentation, software, safety, automation, operations, as well as current issues and future plans. These tours will include a mixture of pre-recorded and live presentations with an opportunity for questions.
More information about the workshop can be found on the website:
https://cddis.nasa.gov/ILRS_Virtual_World_Tour_2020/index.html
and in the
second circular
.
---