Global and Regional Network Maps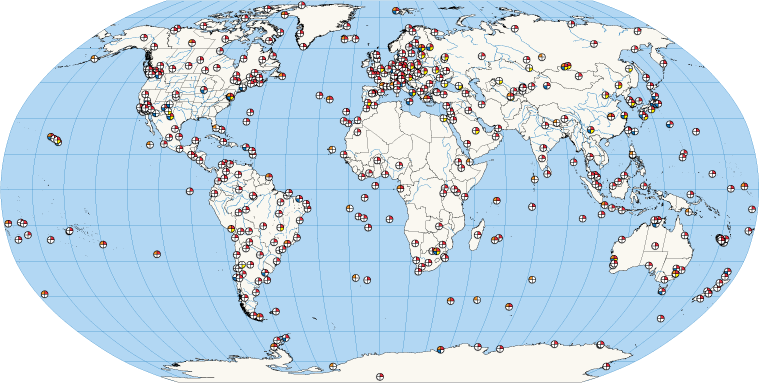 Space Geodesy helps track effects of global change
28 August 2019
A new article in the September 2019 issue of the Smithsonian's Air & Space magazine describes how space geodesy is tracking the effects of global change down to the millimeter. Several NASA researchers were interviewed for the article. CDDIS is NASA's archive for space geodesy data and derived products.
Read the article in Air & Space Magazine.
---
Reflectors placed on the moon by Apollo 11 astronauts 50 years ago continue to provide fresh lunar laser ranging data
31 July 2019
Fifty years ago, Neil Armstrong, Buzz Aldrin and Michael Collins left behind arrays of prisms that reflect light back toward its source; the Apollo 14 and 15 astronauts also did so. Four telescopes at observatories in New Mexico, France, Italy and Germany fire lasers at them, measuring the time that it takes for a laser pulse to bounce off the reflectors and return to Earth. This allows the distance to be measured to within a fraction of an inch (a few millimeters), and scientists at the Jet Propulsion Laboratory analyze the results. Lunar laser ranging measurements have deepened our understanding of the dance between the Moon and Earth.
---
Journal of Geodesy Special Issue on Laser Ranging
23 July 2019
Several peer-reviewed Journal of Geodesy articles were recently published online at the journal site. These are all part of the Special Issue on Laser Ranging which is preparation. Several more articles are in the review process and upon completion the printed version will be published.
In the meantime we invite you to peruse all of these with the latest information on Laser Ranging and the ILRS.
---
Introductory and Refresher Course on Satellite and Lunar Laser Ranging
11 July 2019
The ILRS has scheduled a one-day introductory course to give non-practitioners in SLR an opportunity to broaden their knowledge about laser ranging to Earth-orbiting satellites and the Moon. The course will also provide those with some experience in the field an opportunity to refresh and strengthen their knowledge and increase their appreciation of this powerful measurement technique that supports geoscience and applications. The course is scheduled for Sunday, October 20, 2019, in Stuttgart, Germany, just prior to the 2019 ILRS Technical Workshop. The program for this one-day "SLR School" is available.
Talks will be given in a tutorial format, with time for questions and discussion. Interested parties can attend the school with or without participating in the Workshop. Attendees will be charged an entrance fee of 30 Euros to cover lunch and breaks.
Tutorials will differ in length depending on the topic, but each session should leave ample time for questions and discussion. Seminars will be given at the level of a non-expert, recognizing that we expect people to attend who are not currently working in the field, but are curious, as well as people who are newly involved in laser ranging, but need to broadening their current level of understanding.
The one-day SLR School will be a great way for attendees to get an overview of an important component of the space geodesy measurement constellation. Please see the attached PDF for the topics to be covered in the program.
Participants in the 2019 ILRS Technical Workshop can indicate their plans to attend the SLR School during registration (see http://dlr.de/ilrs2019). Those wishing to attend only the SLR School should contact the workshop's local organizing committee (ilrs.workshop@dlr.de); arrangements are being made for payment of the one-day fee.
---
13 May 2019
The first circular for the 2019 ILRS Technical Workshop has been released. The workshop will take place October 21-25 in Stuttgart, Germany.
---
Update to Real-time Data Caster stream names
16 April 2019
The CDDIS supports the International GNSS Service Real-Time Service (IGS RTS) and, in accordance with all data providers supporting the IGS RTS, the CDDIS will begin updating data and product streams, lengthening names from 5 to 10 characters, reflecting their RINEX V3 observation file name. For example, stream name ALBH0 will become ALBH00CAN0.

This new nomenclature will be adopted across all casters that participate within the IGS RTS, improving stream name uniqueness, consistency across caster sources, and providing useful information within the name. For example each stream name will contain the mount point name and numbers, the three-character country code, and a number to distinguish formats (RAW versus RTCM, etc.) offered by the same station (it is recommended 0 is used for the best RTCM version 3 format). Using ALBH00CAN0 as an example:

ALBH - monument or mount point name
0 - monument or marker number
0 - receiver number
CAN - the 3 character country code
0 - format-distinguishing number


The CDDIS will be updating stream names throughout this year (2019) and will continue to offer both long and short name stream versions, where available, until the end of this calendar year (December 31, 2019). Starting January 1, 2020 all real-time data and product streams offered at CDDIS will be 10 characters.
Streaming should not be affected and all changes should go unnoticed to end users. After the streams are modified, users should only notice the name of the stream has been updated from 5 to 10 characters. Please contact
cddis-help-ntrip@lists.nasa.gov
with questions.