Global and Regional Network Maps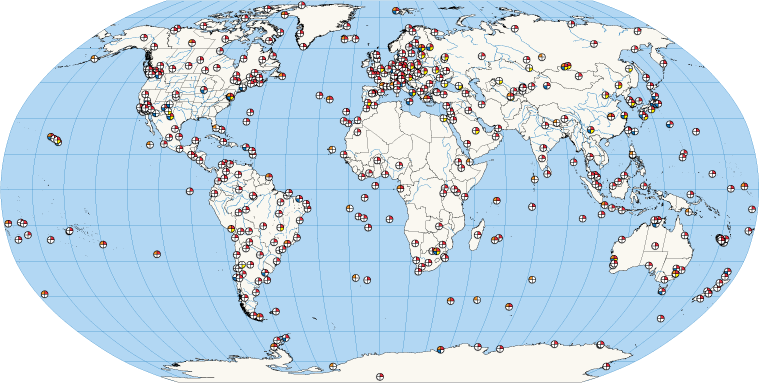 CDDIS unavailable November 30-December 01 for transition to new systems
17 November 2016
On November 30, 2016 at 13:00 UTC, CDDIS will terminate all services (ftp, CDDIS/ILRS/SGP websites, data deliveries) as we transition to all new hardware and facilities. We are projecting about 24 hours to fully move to our new facilities and ensure all operations are back to normal. As such, all users need to plan on a 24+ hour disruption of service to the CDDIS archive with resumption of normal operations no earlier than December 01, 2016 at 17:00 UTC.
In summary the following will take place:

30 November 2016 at 13:00 UTC

– All current production services (ftp, http, etc) will be shutdown.

01 December 2016 at 17:00 UTC

– all web and anonymous ftp access is restored for access to the archive. NOTE: restoration could occur sooner but no guarantees are made.
Currently used addresses, e.g., cddis.nasa.gov or cddis.gsfc.nasa.gov, will continue to work as before the transition. However, if you are using a numeric IP address to access any CDDIS resources your scripts will fail as all current IP addresses will change during the transition.

02 December 2016

– All CDDIS operations should be returned to normal service.
While CDDIS is unavailable, users can access one of the other data centers supporting the services:

---
2016 User feedback survey
07 September 2016
Beginning this week, NASA will be conducting a survey for users of NASA Earth science data and services, which includes the Crustal Dynamics Data Information System (CDDIS). The CDDIS is one of twelve NASA Earth Observing System Data and Information System (EOSDIS) science data centers evaluated by this survey. The purpose of this survey is to help NASA and the DAACs assess customer satisfaction and improve future services. Suggestions from past surveys have been implemented to improve the tools and services offered by the CDDIS.
The American Customer Satisfaction Index (ACSI) is the only national cross-industry measure of customer satisfaction in the United States. NASA commissioned the CFI Group, an independent research and consulting organization to conduct the survey. Presentations of these results given to NASA Earth science are available at: http://earthdata.nasa.gov/about-eosdis/performance/american-customer-satisfaction-index-reports.
Please participate! Your feedback affects our future performance and helps to identify science needs. You will be able to take the survey for each DAAC you use. If you use NASA Earth science data and services and would like to take the survey but did not receive an e-mail with the survey link, please contact surveyhelp@cfigroup.com. This is your opportunity to influence the priorities of the DAACs. Thank you in advance to all of you who are willing to spend a few minutes to complete the survey.
---
11 August 2016
NASA Earthdata has published a user profile of Dr. Erricos Pavlis as part of their "
Who uses NASA Earth science data?
" series.
---
LARES + LAGEOS 1&2 Lense-Thirring results selected as EPJ-C cover
19 July 2016
The article, "
A test of general relativity using the LARES and LAGEOS satellites and a GRACE Earth gravity model
," (Ciufolini et. al.) has been published in the
March 2016
issue of the European Physical Journal-C. Furthermore, a figure from this paper has been selected for the cover of that issue.
---
29 June 2016
Over the last 25 years, ocean radar altimeter satellites have revolutionized our understanding of the world's oceans. Today six altimeter satellites from different national and international space agencies synoptically measure the ocean surface topography in order to determine how the ocean surface changes with time. The heart of the altimeter measurement is the precise determination of the orbit reference which is used as the basis from which the changes in the ocean surface are determined. We now routinely determine the orbits of the joint NASA/CNES/NOAA/EUMETSAT missions Jason-2 and Jason-3 with a radial RMS precision of 1 cm.
Read more