Global and Regional Network Maps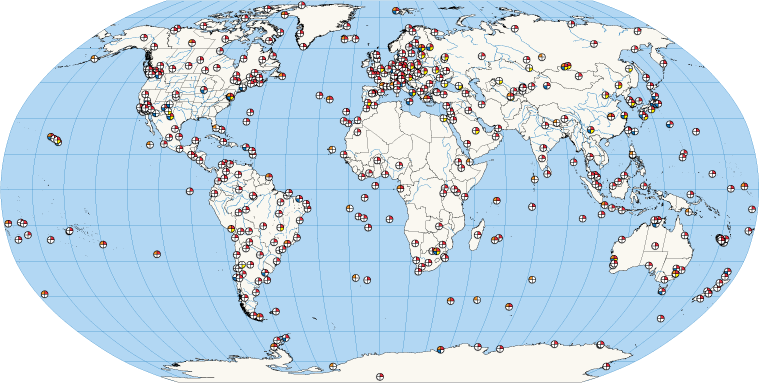 SLR Pioneer Certificates presented by Toshi Otsubo at the 2019 ILRS Technical Workshop
01 November 2019
During the 2019 ILRS Technical Workshop, Toshi Otsubo, chair of the ILRS Governing Board, presented the "SLR Pioneer Certificate" to the following recipients:
Victor Shargorodskiy (Research-and-Production Corporation «Precision Systems and Instruments«/ Moscow, Russia)
"In recognition of his role in the building and deploying of the ROSCOSMOS SLR network"
John McK. Luck (Geoscience Australia, retired/Canberra, Australia)
"In recognition of his work in establishing SLR activities in Australia and Western Pacific Laser Tracking Network"
Carey Noll (NASA GSFC/Greenbelt MD, USA)
"In recognition of her dedication, vision and creativity in supporting all aspects of the ILRS"
At the conclusion of the workshop, a "Recognition of Appreciation" certificate was presented to:
Daniel Hampf (DLR, Stuttgart, Germany)
"In recognition of the outstanding support provided in organizing and hosting the 2019 ILRS Technical Workshop, Stuttgart, Germany"
Congratulations to the recipients!
---
Notice of Pending Shutdown of IERS Rapid Service/Prediction Center web and FTP sites
22 October 2019
The U.S. Naval Observatory's Rapid/Service Prediction web/FTP sites (maia.usno.navy.mil and toshi.nofs.navy.mil) must undergo modernization and will be offline starting sometime Thursday, 24 October 2019. The expected completion of work and return of service is estimated as 30 April 2020.
The data products that the IERS Rapid Service/Prediction Center sends to the CDDIS will continue to be sent and they will be available on the CDDIS during the shutdown at:

ftp://cddis.nasa.gov/products/iers/
https://cddis.nasa.gov/archive/products/iers/
---
NASA Earth Science Data and Services Survey for 2019
08 October 2019
Dear Colleagues,
Recently, some of you may have received an email from the CFI Group on behalf of NASA. This message asked you to complete a survey for users of NASA Earth science data and services, which includes the Crustal Dynamics Data Information System (CDDIS). The CDDIS is one of twelve NASA Earth Observing System Data and Information System (EOSDIS) science data centers evaluated by this survey. The purpose of this survey is to help NASA and the DAACs assess customer satisfaction and improve future services. Suggestions from past surveys have been implemented to improve the tools and services offered by the CDDIS.
Please participate! Your feedback affects our future performance and helps to identify science needs. You will be able to take the survey for each DAAC you use. This is your opportunity to influence the priorities of the DAACs, including CDDIS.
If you do not receive a survey and wish to complete one or know of someone who uses CDDIS and/or EOSDIS data and services who did not receive a survey, please contact
Presentations of these results given to NASA Earth science are available at:
https://earthdata.nasa.gov/about/system-performance/american-customer-satisfaction-index-reports
Thank you in advance to all of you who are willing to spend a few minutes to complete the survey.
---
Space Geodesy helps track effects of global change
28 August 2019
A new article in the September 2019 issue of the Smithsonian's Air & Space magazine describes how space geodesy is tracking the effects of global change down to the millimeter. Several NASA researchers were interviewed for the article. CDDIS is NASA's archive for space geodesy data and derived products.
Read the article in Air & Space Magazine.
---
Reflectors placed on the moon by Apollo 11 astronauts 50 years ago continue to provide fresh lunar laser ranging data
31 July 2019
Fifty years ago, Neil Armstrong, Buzz Aldrin and Michael Collins left behind arrays of prisms that reflect light back toward its source; the Apollo 14 and 15 astronauts also did so. Four telescopes at observatories in New Mexico, France, Italy and Germany fire lasers at them, measuring the time that it takes for a laser pulse to bounce off the reflectors and return to Earth. This allows the distance to be measured to within a fraction of an inch (a few millimeters), and scientists at the Jet Propulsion Laboratory analyze the results. Lunar laser ranging measurements have deepened our understanding of the dance between the Moon and Earth.
---
Journal of Geodesy Special Issue on Laser Ranging
23 July 2019
Several peer-reviewed Journal of Geodesy articles were recently published online at the journal site. These are all part of the Special Issue on Laser Ranging which is preparation. Several more articles are in the review process and upon completion the printed version will be published.
In the meantime we invite you to peruse all of these with the latest information on Laser Ranging and the ILRS.