Global and Regional Network Maps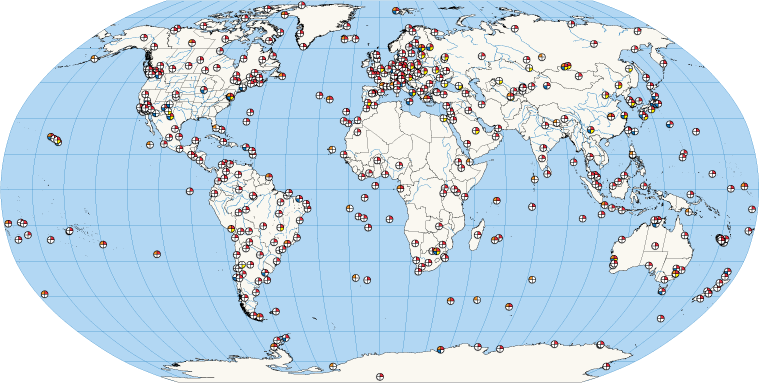 Update to DORIS RINEX summary files
11 March 2019
On March 06, 2019, the CDDIS updated the DORIS RINEX summary files. Originally, the DORIS RINEX summary files contained only the header information. With this update, the summary files now include station-specific information similar to the multiday files: satellite, station, start datetime, end time, and the number of observations.
---
CDDIS Real-Time Infrastructure Down Time - Including Real-Time Caster
11 March 2019
On Tuesday, March 12, CDDIS will be upgrading its GNSS real-time infrastructure which includes the Ntrip Caster access. The systems will be down from 1400 – 1600 EDT, 1800 - 2000 UTC.
After the switch to the new system, the system will no longer restrict your access to your requested list of streams. You will be able to access any stream, up to the number of streams you previously requested (i.e., 1, 5, 25, or 50 streams).
Your access to the CDDIS caster will not change. You will continue to use your Earthdata username/password combination. If you need to change your password or forgot your userid or password please go to https://urs.earthdata.nasa.gov/ and follow the instructions.
After 1600 EDT, 2000 UTC, if you cannot access the caster, please send an email to cddis-help-ntrip@lists.nasa.gov and we will help you.!
---
Planning for the 2019 ILRS Technical Workshop has begun
12 February 2019
Planning for the 2019 ILRS Technical Workshop has begun! We ask that you mark your calendars and reserve the date for the next gathering of the ILRS community:
Dates: October 21-25, 2019
Location: Stuttgart, Germany
The workshop will be sponsored by the DLR in Stuttgart, Germany. The program committee is actively working on the defining the theme and session topics for the workshop while the local organizers are planning the workshop logistics.
The first circular for the workshop will be issued in the very near future.
We hope you will consider attending the workshop!
---
Lunar Laser Ranging featured on the "Today" show
11 February 2019
NBC Sunday Today recently reported on lunar laser ranging activities at the APOLLO system in Sunspot NM.
---
The CDDIS is currently experiencing problems with receiving data and products
12 October 2018
The CDDIS is currently experiencing problems receiving data and derived product files from those groups that routinely submit files to our upload servers. Therefore, some recent files are missing from the archive. We are actively working on the problem and hope to have the issues with file uploads solved soon.
We apologize for the problems this is causing our user community.
---