Global and Regional Network Maps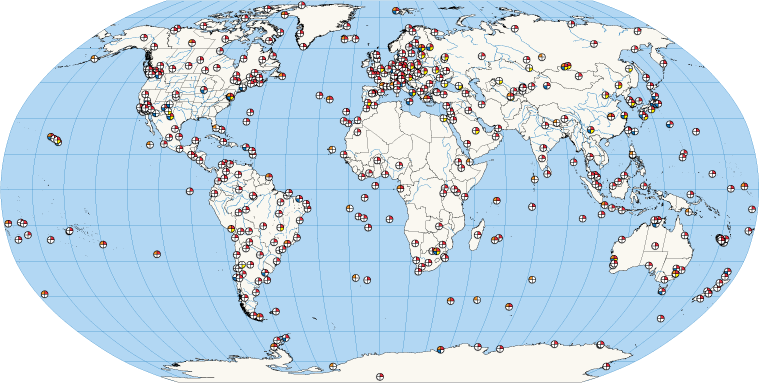 Planning for the 2019 ILRS Technical Workshop has begun
12 February 2019
Planning for the 2019 ILRS Technical Workshop has begun! We ask that you mark your calendars and reserve the date for the next gathering of the ILRS community:
Dates: October 21-25, 2019
Location: Stuttgart, Germany
The workshop will be sponsored by the DLR in Stuttgart, Germany. The program committee is actively working on the defining the theme and session topics for the workshop while the local organizers are planning the workshop logistics.
The first circular for the workshop will be issued in the very near future.
We hope you will consider attending the workshop!
---
Lunar Laser Ranging featured on the "Today" show
11 February 2019
NBC Sunday Today recently reported on lunar laser ranging activities at the APOLLO system in Sunspot NM.
---
The CDDIS is currently experiencing problems with receiving data and products
12 October 2018
The CDDIS is currently experiencing problems receiving data and derived product files from those groups that routinely submit files to our upload servers. Therefore, some recent files are missing from the archive. We are actively working on the problem and hope to have the issues with file uploads solved soon.
We apologize for the problems this is causing our user community.
---
NASA Earth Science Data and Services Survey for 2018
01 October 2018
Recently, some of you may have received an email from the CFI Group on behalf of NASA. This message asked you to complete a survey for users of NASA Earth science data and services, which includes the Crustal Dynamics Data Information System (CDDIS). The CDDIS is one of twelve NASA Earth Observing System Data and Information System (EOSDIS) science data centers evaluated by this survey. The purpose of this survey is to help NASA and the DAACs assess customer satisfaction and improve future services. Suggestions from past surveys have been implemented to improve the tools and services offered by the CDDIS.
Please participate! Your feedback affects our future performance and helps to identify science needs. You will be able to take the survey for each DAAC you use. This is your opportunity to influence the priorities of the DAACs, including CDDIS.
If you did not receive a survey and wish to complete one or know of someone who uses CDDIS and/or EOSDIS data and services who did not receive a survey, please contact
The American Customer Satisfaction Index (ACSI) is the only national cross-industry measure of customer satisfaction in the United States. NASA commissioned the CFI Group, an independent research and consulting organization, to conduct a brief survey to rate the products and services NASA currently provides from NASA's EOSDIS data centers. Please consider responding to this survey; your input will help us to better serve our user community.
Presentations of these results given to NASA Earth science are available at:
https://earthdata.nasa.gov/about/system-performance/american-customer-satisfaction-index-reports
Thank you in advance to all of you who are willing to spend a few minutes to complete the survey.
---