Global and Regional Network Maps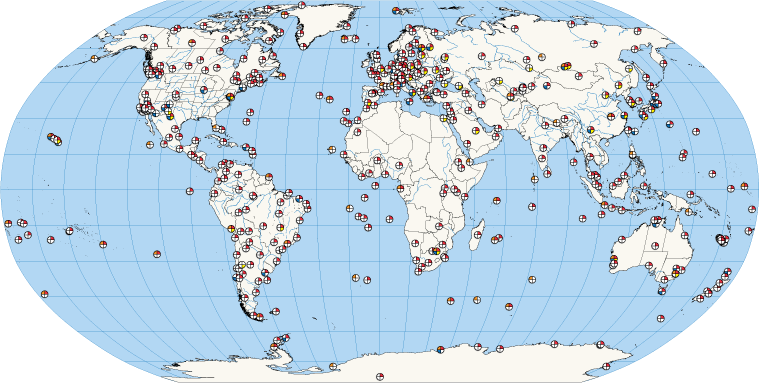 NASA Station Leads Way for Improved Measurements of Earth Orientation, Shape
10 Mar 2016
NASA has demonstrated the success of advanced technology for making precise measurements of Earth's orientation and rotation – information that helps provide a foundation for navigation of all space missions and for geophysical studies of our planet. The technology includes a new class of radio antenna and electronics that provide broadband capabilities for Very Long Baseline Interferometry, or VLBI. This technique is used to make precise measurements of Earth in space and time.
Read more
---
NASA Contributes to Global Standard for Navigation, Studies of Earth
25 Feb 2016
The surface of Earth is constantly being reshaped by earthquakes, volcanic eruptions, landslides, floods, changes in sea levels and ice sheets, and other processes. Since some of these changes amount to only millimeters per year, scientists must make very precise measurements of the landscape and ocean in space and time in order to study their evolution and help mitigate their impacts.
Read more
---
RINEX V3 GNSS Data at CDDIS
06 Jan 2016
Starting with data from 2016, all RINEX V3 data using the RINEX V3 filenaming convention will now be made available in the operational GNSS data archives at the CDDIS. This change has been implemented at the IGS data centers in accordance with the IGS RINEX 3 transition plan (
http://bit.ly/1Md7VhU
).
Read more
---
Brief network outages at GSFC on December 19, 2015
11 Dec 2015
Work will be performed on the NASA GSFC network infrastructure from 03:00 p.m. (20:00 UTC), Saturday, December 19, 2015 through 03:00 a.m. (08:00 UTC) on Sunday, December 20. Users can expect 10-15 minute interruptions during that time period.
Read more