Global and Regional Network Maps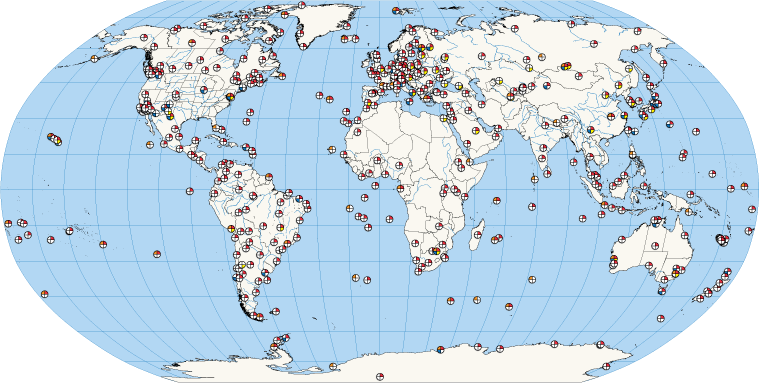 NASA Explains Why June 30 Will Get Extra Second
26 Jun 2015
The day will officially be a bit longer than usual on Tuesday, June 30, 2015, because an extra second, or "leap" second, will be added. "Earth's rotation is gradually slowing down a bit, so leap seconds are a way to account for that," said Daniel MacMillan of NASA's Goddard Space Flight Center in Greenbelt, Maryland.
Read more
---
CDDIS Archive Explorer is now available through the CDDIS website
11 Jun 2015
This
web application
is a search/metadata interface tool for the CDDIS archive that will aid users in discovery of CDDIS data, products, and information. Users can specify any/all input parameters, such as temporal, spatial, target values. The resulting pages will present a map and list of sites satisfying the input parameters. Users can further drill down and view additional information about the sites. The CDDIS staff welcomes input on this new application.
---
Leap second to be introduced into UTC on June 30, 2015
04 Jun 2015
UTC must be adjusted to maintain its correlation to mean solar time due to irregularities in the Earth's rotation. Therefore, a leap second will be introduced into UTC on June 30, 2015 at 23:59:59 UTC. More information about the leap second and preparing for it is available from the following websites:
---
Real-Time GNSS Data and Products now available through the CDDIS
10 Apr 2015
The CDDIS staff is pleased to announce that its real-time caster is now operational, supporting the International GNSS Service (IGS) Real-Time Service (RTS). The IGS RTS, based on a cooperative global infrastructure of stations, data centers, and analysis centers, provides GNSS orbit and clock corrections that enable precise point positioning (PPP) and related applications.
Read more