Global and Regional Network Maps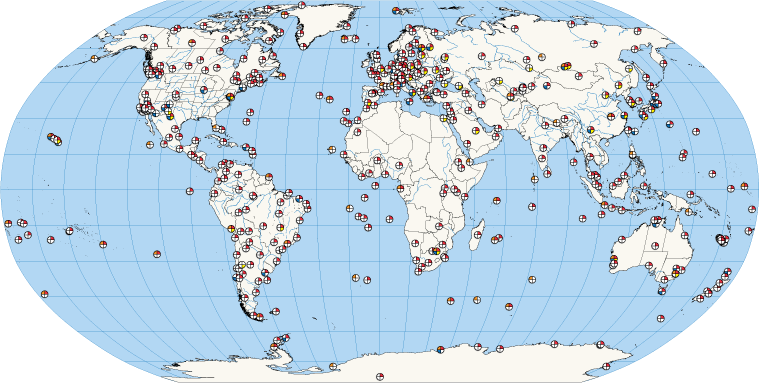 NASA network connectivity outage
22 Apr 2015
Starting this Sunday, April 26, there will be a scheduled outage for NASA network connectivity, from April 26 17:00 UTC through April 27 05:00 UTC. We have been told that the NASA network will be unavailable during the first four hours; intermittent outages of several minutes can be expected after that time until the end of the period specified above. During the outage, the ILRS, CDDIS, and Space Geodesy Project websites will not be accessible.
While the CDDIS is unavailable, users can access one of the other data centers supporting the services:
We regret any problems this outage may cause the user community.
---
Real-Time GNSS Data and Products now available through the CDDIS
10 Apr 2015
The CDDIS staff is pleased to announce that its real-time caster is now operational, supporting the International GNSS Service (IGS) Real-Time Service (RTS). The IGS RTS, based on a cooperative global infrastructure of stations, data centers, and analysis centers, provides GNSS orbit and clock corrections that enable precise point positioning (PPP) and related applications.
Read more
---
Earthdata Article Featuring CDDIS Data Published
04 Dec 2014
Like many physicists today, Rafael Lang at Purdue University is on the hunt. As in a treasure hunt, the odds of finding the treasure may be slim, but the rewards are huge and the lure of the hunt irresistible. Lang said, "If we were to find something, it would be super, super exciting, another puzzle piece to open this new world."
Read more
---
19th International Laser Ranging Workshop was a great success
18 Nov 2014
The 19th International Laser Ranging Workshop was hosted by NASA GSFC from October 27-31, 2014 in Annapolis, Maryland. October 31 marks the 50th anniversary of the first successful Satellite Laser Ranging (SLR) measurement which occurred at the Goddard Geophysical and Astronomical Observatory (GGAO) in 1964. The theme for this workshop, "Celebrating 50 Years of SLR: Remembering the Past and Planning for the Future" allowed the community to look back on its many accomplishments and to present plans for future advances in SLR technology and science.
Read more